Effect of MgO(100) support on structure and properties of Pd and Pt nanoparticles with 49-155 atoms
---
Effect of MgO(100) support on structure and properties of Pd and Pt nanoparticles with 49-155 atoms.
S.M. Kozlov, H.A. Aleksandrov, J. Goniakowski, K.M. Neyman.
J. Chem. Phys., 139 (2013) 084701, 1-10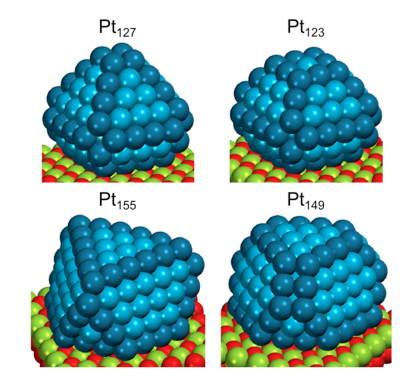 Platinum nanoparticles of different shape, size and orientation on MgO(100) support studied by means of density functional calculations.  
The computational study addressed the effect of an oxide support, MgO(100), on relative energies and various properties of Pd and Pt nanoparticles (NPs) that consist of up to 155 atoms (1.6 nm in size). While the support is found to significantly affect relative stabilities of NPs, other properties of NPs such as electronic structure and interatomic distances within NP do not notably change upon deposition. This is one of the first electronic structure studies, where the effect of oxide support on sizable metal nanoparticles was investigated. This work paves the way to more realistic modeling of such complex phenomena as metal-support interaction in heterogeneous catalysis.