Formation of a covalent glycosyl-enzyme species in a retaining glycosyltransferase
---
Formation of a covalent glycosyl-enzyme species in a retaining glycosyltransferase
V. Rojas-Cervellera, A. Ardèvol, M. Boero, A. Planas, C. Rovira.
Chem. Eur. J. 42 (2013) 14018.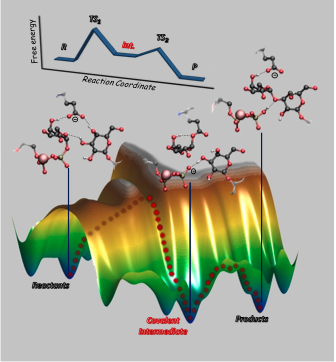 Molecular mechanism of glycosidic bond synthesis by the ɑ3-galactosiltransferasa enzyme obtained by QM/MM methods.  
Glycosyltransferases (GTs) are enzymes responsible for the formation of carbohydrates. Specifically, they synthesize glycosidic linkages by the transfer of a monosaccharide, from a sugar nucleotide donor to an acceptor substrate. GT alterations cause several diseases, such as infection, inflammation and several inherited disorders.   
One of the major challenges for the rational design of specific and potent drugs/inhibitors for this class of enzymes is unraveling their detailed reaction mechanisms, which still escape direct experimental probes. Using a combination of classical molecular dynamics simulations and QM/MM (quantum mechanics/molecular mechanics) metadynamics, we have trapped the long-time sought glycosyl– enzyme covalent intermediate of a retaining glycosyltransferase.