An ionizable triptophane residue imparts catalase activity to a peroxidase core
---
An ionizable triptophane residue imparts catalase activity to a peroxidase core
P. C. Loewen, X. Carpena, P. Vidossich, I. Fita, C. Rovira
J. Am. Chem. Soc., 136 (2014) 7249. JACS Spotlight.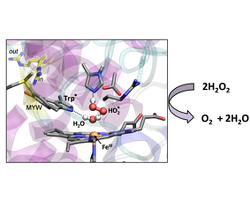 Enzyme intermediate determined by quantum mechanics/molecular mechanics (QM/MM) simulations.
When it comes to enzymes and hydrogen peroxide (H2O2), there are catalases and peroxidases. The former degrade hydrogen peroxide; the latter use it to oxidize other molecules. The heme-containing catalase-peroxidases (KatGs) perform both activities, but as the enzymes' active sites tend to resemble peroxidases (which have poor catalase activity), it has never been clear how they work. KatGs have a unique methionine-tryptophan-tyrosine (MWY) "covalent adduct" near the heme ring, as well as a critical arginine residue that alternates between "in" and "out" orientations. Using QM/MM calculations and x-ray crystallography, we demonstrate that the adduct tryptophan loses a proton during the catalytic cycle. We also propose an eight-step mechanism in which the MWY complex and mobile arginine act as an "electronic switch" that drives conversion of hydrogen peroxide to water and oxygen.