The role of Li+ ions in the gas phase dehydrohalogenation and dehydration reactions of i-C3H7Br and i-C3H7OH molecules studied by radiofrequency-guided ion beam techniques and ab initio methods
---
The role of Li+ ions in the gas phase dehydrohalogenation and dehydrationreactions of i-C3H7Br and i-C3H7OH molecules studied by radiofrequency-guided ion beam techniques and ab initio methods
E. López, J. M. Lucas, J. de Andrés, M. Albertí, J. M. Bofill, A. Aguilar.
J. Chem. Phys., 146 (2017) 134301.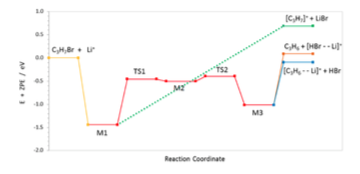 Schematic profile of the zero point energies of the different stationary points (minima and transition states)
characterized along the reaction path calculated at the ab initio MP2 level on the singlet ground state of the Li+ + i–
C3H7Br. Energies of the minima (M) and transition states (TS) on the PES are referred to reactants and the
connectivity among them is shown using the IRC method.
Elimination reactions play a relevant role in the preparation of unsaturated hydrocarbons and in gas phase alkali ions show an enhanced reactivity against their passive in solutions systems. In this work the experimental elimination reactions of H2O and HBr species under single collision conditions have been studied when ions Li+(1So) ions collide with gas phase i-C3H7Br and i-C3H7OH both being in their electronic state. Using a radiofrequency-guided ion beam (RFGIB) technique the reaction products have been characterized by mass spectrometry. Experiments were done in the 0.010 – 10.00 eV center of mass energy range. For these reactive systems spectrometry mass analysis has shown the formation of [C3H6_Li]+, [HBr-Li]+, [H2O-Li]+, C3H7+ and the transitory adduct [Na – i-C3H7Br]+. For all characterized products the corresponding excitation functions in absolute units were obtained allowing to calculate the corresponding formation reaction rate constants at 303.2 K. Ab initio structure calculations at the MP2 level relevant information on potential energy surfaces (PES) where elimination and decomposition reactions evolve adiabatically, characterizing different minima and transition state connected along the IRC. Topology features of the PES allow a qualitative interpretation of the experimental data and show the role of the lithium ion as a catalyst in elimination reactions.