On the binding of congo red to amyloid fibrils.
---
A. Espargaró, S. Llabrés, S. J. Saupe, C. Curutchet, F. J. Luque, R. Sabaté.
Angew. Chem. Int. Ed. 59 (2020), 8104-8107.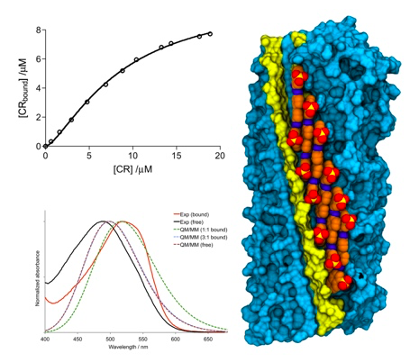 Congo red binds to amyloid fibrils with the long axis oblique to the fibril axis and the plane radial to the fibril core, following a cooperative mechanism characterized by the formation of a 1:1 stoichiometric complex.
Amyloids are characterized by their capacity to bind Congo red (CR), one of the most used amyloid-specific dyes. The structural features of CR binding were unknown for years, mainly because of the lack of amyloid structures solved at high resolution. In the last few years, solid-state NMR spectroscopy enabled the determination of the structural features of amyloids like the HET-s prion forming domain (HET-s PFD) and its binding by CR. In this study, spectroscopic data was combined with molecular docking, molecular dynamics, and excitonic quantum/molecular mechanics calculations to examine and rationalize CR binding to amyloids. In contrast to a previous assumption on the binding mode, the results indicated that CR binding to the HET-s PFD involves a cooperative process entailing the formation of a complex with 1:1 stoichiometry.